Viola Davis ROCKS!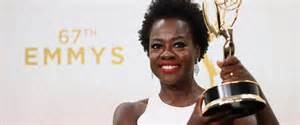 "How can someone have equal opportunity without equal access?"
Heads around the room nodded up and down in my class.
"If we don't have access to the same opportunities, 'equal opportunity' is only a possibility, not a given." A few "amens" punctuated the agreement. We concurred that "equal outcomes" were impossible in this life. We also agreed that "equal opportunities" were what we wanted for everyone. But now the emphasis was on "equal openings." Is the thing we desire even available to us? Does everyone even have access to the same opportunities?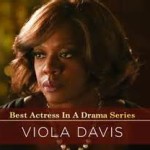 "Access to opportunity" is exactly what Viola Davis referred to in her acceptance speech on Sunday night. Viola Davis became the first black woman to win an Emmy for lead actress award in a drama. One of the lines in Davis's acceptance speech went this way,
"The only thing that separates women of color from anyone else is opportunity. You cannot win an Emmy for roles that are simply not there."
Davis thanked various writers in her acceptance speech for writing characters for herself and other Black women. "Opportunity" includes "access," meaning "availability." If the desire for something exists—in this case, a role written specifically for a Black woman—without the possibility of obtaining it, "equal openings" evaporate. [You can see Viola's  her video acceptance speech here.]
Contemplate the following list of questions.
Why is it that Hollywood, known for trumpeting social causes, took until 2015 to honor, in Davis's words, "a woman of color" for such an award?

Does Hollywood practice what it preaches? Why or why not?

Here is the Harriet Tubman quote given by Davis:
"In my mind, I see a line. And over that line, I see green fields, and lovely flowers, and beautiful white ladies with their arms stretched out to me over that line. But, I can't seem to get there no how. I can't seem to get over that line."
What is the "line" that Tubman and Davis desire to cross? When Tubman references "green fields and lovely flowers" what or who is keeping her from accessing what is across the "line?" [If you would like to read some of Harriet's own words here is a free Google ebook which contains the quote on page 16.]
Respond to Davis's comment:
"The only thing that separates women of color from anyone else is opportunity. You cannot win an Emmy for roles that are simply not there."
What did Davis mean by "opportunity"? What does it mean to be "opportunity-less" in any group or institution? There are many Black women actors in Hollywood so why does Davis call-out the dearth of access to roles that allow her opportunity?
Viola Davis has been one of my favorite actresses for many years. Her small role in Doubt was unbelievably moving. She out-shown even Meryl Streep who also starred in that picture. Davis's stature in Hollywood preceded her being honored with this award. But Davis teaches us an important lesson. Unless and until we cross "the line" to help another cross it, "equal opportunity" will be a pipedream without "equal access."
Dr. Mark Eckel was teaching the course "Theological Foundations in Ministry" for Capital Seminary and Graduate School when this discussion took place last week.