Sometimes I have difficulty breathing.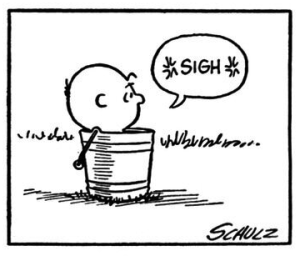 No. I don't smoke.
Yes. I exercise.
No. I don't battle disease.
Yes. My life has been sabotaged by others.
I have been
Displaced by a conniving, duplicitous subordinate

Disconnected by leaders believing what the subordinate says

Demeaned by a leader just because he found someone he liked better

Confused trying to please an employer who constantly changed the job

Denied access to salary rates, paid less than those I was meant to lead

Offered a job which was later rescinded

Proffered an institutional agreement, later forgotten by those who benefited

Lied to about a job, hired, later discovering falsified pretext

Lied about when fired on untrue, leader-created false charges

Lied about to others by leaders so as to eradicate personal responsibility
So yes, sometimes, I have trouble breathing.
I regularly feel exposed, naked, repressed, disenfranchised.
These are not feelings that anyone else can see.

These are not emotions which can be overcome by discussion or dialogue.

These are not settings where one can speak about issues without bad-mouthing others.

These are not circumstances which allow for redress or restored work.

These are not situations of which one can speak without the label of "complainer."
I write generally about these situations and my feelings here because I think it's important that others who have endured similar effrontery find solace with one who has put their feelings in words. [Paul did so about the Corinthians in his second recorded letter to them.]
You will not find me ranting on social media about grievances.

You will not see me post the "defamation du jour."

I try to capitulate instead of fight because there is little recourse in rancor.

I rage in my soul because there is nowhere else to rage.

I try not to play the game "What if?" but end up playing anyway.
I write words like these, sludge released from a grill, because I need the release.
I agree with my sisters Amanda and Jamie. They write about their own internal, human struggles, expressing how they feel, knowing no other resort than words, often in the form of sighs.
Have I been angry about the situations I've encountered? Sure. Have I expressed myself to those who have wronged me? As I've had opportunity. Do I lament the past? Every other day.
But on the good days, I am reminded of this prose poem by Minnie Louise Haskins.
And I said to the man who stood at the gate of the year: "Give me a light that I may tread safely into the unknown."

And he replied: "Go out into the darkness and put your hand into the Hand of God. That shall be to you better than light and safer than a known way."

So I went forth, and finding the Hand of God, trod gladly into the night. And He led me towards the hills and the breaking of day in the lone East.
And so I breathe.
Please feel free to record your responses, thoughts, experiences, and "sighs" in the comment section below.
Picture credit: http://daringfireball.net/2013/02/bounding_asterisks