"So when your son asks, 'Why?' say to him…"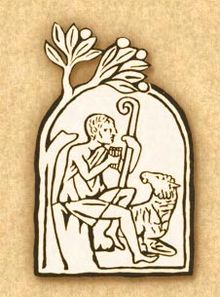 Jewish and Christian parents both face the same question. "Why?" asks for meaning, reason, and purpose. All people interested in passing on the system of beliefs they hold ponder the best way to do so for their children.
Biblical Theology of Catechism
Everyone has a heritage, a tradition, something passed down to another. Whether positive or negative, heritage has a sense of permanence. Land was given as an enduring right to the Hebrews (Lev. 25.23, 28; Num. 26:52-56; 1 Kgs. 21:3-4). The Hebrews were God's heritage (De. 4:20; 32:9), in turn, He was to be theirs (Ps. 119:57; 142:5). God gave His law for His people's inheritance (De. 33:4; Ps. 119:111). Primary for Hebrew peoples is that children are an inheritance from the Lord (Ps. 127:3). Hebrews combined the two most precious earthly possessions they had—God's law and their children—to establish a practice of answering "Why?"
Four repetitious passages establish the Jewish catechetical tradition. In each case, the same format is followed: (1) the question, (2) who asks, (3) who answers, (4) what event occurred, and (5) what action was taken. The first three are always the same. Children seek meaning from a certain event from their parents. Passover (Ex. 12:24-28), law-giving (De. 6:20-25), and the Jordan crossing (Josh. 4:1-9; 19-24) are the events prompting the catechism, the passing down of the information to "generations yet to come" (Ex. 12.42).
Further observations illicit ideas for the catechetical process to be followed. The rite or ritual was a literal work, labor, or service (12.24). The service (13:5) was something planned or scheduled (13:4) and gave an opportunity to have a ready answer (13:8) to the question (13:14) which was assumed (Ex. 10:2). A similar question was later asked about a stone marker for the Jordan River crossing. The sign was a historical symbol pointing back to a space-time event (Josh. 4:6). The pile of rocks was to be a memorial, a place of reflection, recalling the past event (Josh. 4:7).
Biblical Philosophy of Catechism
Five ways of thinking spur people to pass down their belief to the next generation. First, the importance of belief prompts teaching. The events of history must not be forgotten; etched in memory parents relive the past. The past depends on interpretation, so guidance is needed to maintain proper analysis. Second, the intention of belief promotes planning. Teaching does not happen by happenstance. Traditions are employed to create repeated attention to historical detail. Physical-visual aids are necessary to connect the past to the present, one generation to the next. Third, the instruction of belief upholds meaning. A celebration of creed develops confidence, something upon which future generations can depend. Question and answer can build trust leading to certainty. Fourth, the indicative of belief encourages investigation, the idea that credibility is sustained through proper analysis. A story retold is only as good as the research and enquiry into whether or not the history is true. Fifth, the imperative of belief endorses commitment. If the belief is true, people have no other choice but to tell it. Exclusivity marks the belief. There can be no neutrality, no vacillation, and no acceptance of competing belief systems. The belief is a command of God, not a human invention.
Christian Practice of Catechism
Will Christian young people be able to meet the challenges of the twenty first century? A catechism is both a personal and corporate attempt to educate sons and daughters of The Faith. Children need to know what and why they believe. "What?" must proceed "Why?" then "How?" the teaching is given. The early Church was certainly concerned that some had not been well taught (He. 5:11-14), teaching being critical to the future of The Church. In the case of the Hebrews (5:11-6:2), the catechism had calcified. Christian teaching had occurred but prompted no growth. These Christians did not know "the elementary principles" (5:12), the primary materials of creation (2 Pe. 3:10). Maturity should result from consistent Scriptural training (Heb. 5:14). Catechism can lead people to the well of learning but each person still bears responsibility to drink.
Very deliberate practices can give clear direction for The Church's catechesis based on Scriptural teaching. Catechism should be a curricular design, planned and scheduled. Attention should be paid to detail developing the necessity of personal reflection. The educational process should involve question and answer as well as stories being retold. Christian interpretation is based on historical connections which are maintained. Seriousness and solemnity should mark the procedure. Parents should be personally involved with their children's belief education. Active learning, visual aids, and physical memorials help convey the Christian remembrance. An audible invocation or commencement engages the children; helpful as they plan to pass on to their children what they have learned.
Christian children must be able to defend what and why they believe, able to give an answer to all who ask with gentleness and respect (1 Pe. 3:15-16). The content of belief is combined with communication for the sake of training. Knowledge gives confidence for explanation to others. Two groups, believers and unbelievers, benefit from continuing catechesis according to Joshua 4:24: "so that all the peoples of the earth may know that the hand of the LORD is mighty, that you may fear the LORD your God forever."
Mark wrote and taught a catechism for his own children; the catechism has been used for years after with senior high school students in Christian schools. This essay, along with 16 others, will be published in the new Christian Education Encyclopedia with Scarecrow Press (April, 2015). Dr. Eckel now teaches the concepts of catechism to his students at Capital Seminary & Graduate School.