A  projector's light can reflect light from Heaven.
 Hollywood Video had been my apologetic-evangelistic headquarters for years.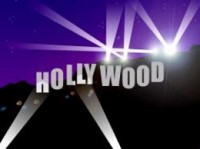 Relationships developed there turned into friendships which turned into opportunities for the gospel.  Because of our common interest, my thoughts were always wrapped around and through film.  One manager had been "taught something about the rapture" when he was a kid and asked my point of view on the horror genre which made him uneasy about his future.  We talked for half an hour.  He listened attentively to my interconnection between Revelation and Hollywood.   I stood outside the store one afternoon as another manager smoked her lunch asking me questions about my beliefs.  When I told her that I saw my beliefs within the films she rented, her amazement was palpable.  "Why don't you write reviews for the store?"  So I did.  In fact, for some time, they kept a folder on the counter labeled "Dr. Eckel's Reviews" for people who had questions about various films.  None of my reviews contained John 3:16, but every one of my reviews encouraged people to look up. 
Casual conversations at the video store inevitably led to the question "Have you seen ____ ?"  Many of us reference movies on a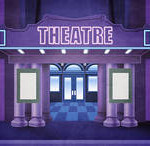 regular basis.  It is not that we have nothing else to do, but the action on screen often replicates action on the street.  What we see in our own relationships, we see retold through actors.  Our hopes and dreams, our fantasies and realities, our non-fiction and science-fiction, our love stories, and justice tales all point back to thoughts, emotions, and actions we live every day.  Movies of all kinds depend on truth and sometimes teach truth, evidenced in a few one-sentence reviews.
Love Actually and About Time advise us love is not only possible but beneficial.

Snitch asks "What would you do to save your son?" 

Toy Story 3 tells young and old that friendship depends on commitment to people and place.

Gimme Shelter prompts us not to forget, not to ignore, not to neglect those who cannot help themselves. 

Thor, Avengers, and Superman superhero movies invigorate us toward good but still leave us thinking, "I need outside help." 

The Family Man reminds us choices depend not on external attraction but internal change.

Fruitville Station shouts unconscious prejudice consciously kills.

Planes, Cars, or Monsters Inc. teach the same lessons at 5 or 55: living necessitates dreams, friends, and acceptance.

The Internship shows teamwork is imperative, pride comes before a fall, and asks "Can I accept how I was made?" 

Insidious scares us, yet make us crave an understanding of the spirit world, knowing there is something else out there. 

Europa Report engages our thrill of discovery and our horror of discovering something we did not want to find.

The Ultimate Gift could lead us to The Ultimate Life causing our lives to be a gift to others.

The Butler or 12 Years a Slave shout that justice will never be out of date.

Tyler Perry's Madea movies leave us in stitches while pointing out the frayed threads of life.

Captain Phillips show us the face of leadership staring in the face of uncertainty and death.

Enough Said asks, "Do we allow other peoples' perspectives to become our own?"

Prisoners. Any father who loves his children will feel every anguished moment of this film. 

All is Lost We enter a life, near the end of a life, where life becomes more precious since life is all we have.

Thin Ice Comeuppance equals just desserts and the dessert is not always sweet. 

I will never forget one particular day when I entered the store with one-page review in hand.  I asked the new worker behind the counter for the manager.  "She's out.  Can I give her a message?"  Afraid that the piece of paper would be misplaced by someone I didn't know, I offered that I would wait and look through the new releases.  As I turned to go she asked with great hesitation, "Is that one of your reviews?"  I didn't know her but she knew me.  "I sure would like to read it.  I promise to place it in the folder when I'm finished."  She handled the review as if she had just received the Holy Grail.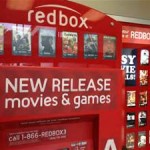 My search is not for "the grail" but for true Truth.  Movies still move me.  I am not alone.  Movie makers take in hundreds of millions each year. Netflix, Redbox, and Amazon Prime are all indicative of the same idea: people love to watch movies at home.  Like most people I have my favorite movies, movie genres, and movie actors.  But when someone asks "Wanna' see a movie?" my first response is "Sure!" because like most people I like lots of different kinds of movies.
My prayer for you, the reader, is the same as my prayer for the worker behind the counter.  I hope that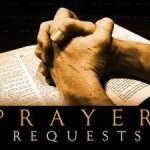 you find encouragement knowing that the ideas you see in film are rooted in The Ideal found in Heaven. I hope you find exhortation believing that movies drive us to "ought" and "should" because a Standard for Righteousness exists. And I hope you find satisfaction enjoying the Good in life because The Good God made all things.
Mark's next book When the Lights Go Down: Movie Review as Christian Practice (Westbow, Thomas Nelson) comes out this fall. Over the last six months a majority of Warp#Woof essays have been directed to the book. Capital Seminary & Graduate School students see the intersection of film with faith in Dr. Eckel's classes.