She started the conversation.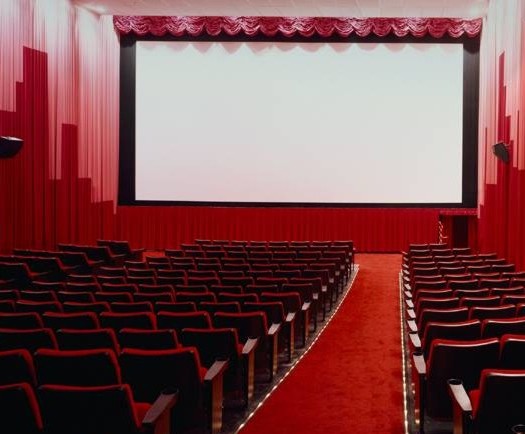 "I could not help but notice
you're working on a presentation about movies."
There is not much you can hide sitting next to others on a plane.
"That's right. I am teaching a series on movies at my church."
She was surprised. "That's odd," she was honest. "A church doing a series on movies?"
She paused. She smiled. She asked. "So, what's your favorite movie?"
It is inevitable. It's the same question every time.
Why? Because most people watch movies. And most people have favorite movies.
Stories may draw us together but movies make us sit down together. 
People are drawn together because we all have something in common. Theologians call it "common grace." I think movies can be a great demonstration of common grace. Here is my definition:
The goodness of all creation benefits all people. The Scriptural emphasis on God's beneficence and goodness is seen in weather, language, discovery, agriculture, you-name-it. (Genesis 39:5; Psalm 107:8, 15, 21, 31, 43; 145:9, 15-16; Matthew 5:44-45; Luke 6:35-36; John 1:9; Acts 14:16-17; 1 Corinthians 7:12-14).
What do Christians have in common with all theatre goers? Since pieces of truth exist in film because of God's goodness within creation, the Christian recognizes cinematic merit in some movie stories.
Here are a few common grace issues and movies that go with each:
Anti-Bullying: Bully or Standing Up

Education: Teach or The Emperor's Club

Redemption: Despicable Me or Seven Pounds

Anti-Racism: The Help or Mississippi Burning

Justice: 12 Angry Men or To Kill a Mockingbird

Place: The River or Places in the Heart

Life: Lost in Yonkers or Winter's Bone

Providence: Forrest Gump or Simon Birch
I shared 10 common grace questions with the adult study at my church. These questions can be the basis for discussions with anyone, about any movie, any where, anytime:
1. What does the movie say about life that can be celebrated?

2. What does the movie say about life that can be critiqued?

3. How can common grace give opportunities for cultural engagement or evangelism?

4. What is the difference between enjoying life as a Christian and the unbeliever who enjoys life?  What would you say to someone who suggested Christianity is unnecessary?

5. Does a Christian approach to "common grace" teaching eliminate the need for Christ?

6. How do we make gospel connections to "common grace"?

7. Why not just make "Christian" movies? Why depend on hit-and-miss "common grace" connections from Hollywood? Why do we listen to anything that comes out of Hollywood any way?

8. Why do Christians and non-Christians share the same cardinal virtues such as justice, temperance, or wisdom?

9. Why do some movies "move" all of us?

10. How do we make sure that "common grace" is not simply used as an excuse for go-along-to-get-along with an unbelieving culture?
God is calling all people from all places, within all cultures, for all time to Himself through His Son Jesus.
Sometimes, He uses movies.
"Worthy are you . . . for You were slain, and by Your blood You ransomed people for God from every tribe and language and people and nation and you have made them a kingdom and priests to our God and they shall reign on the earth." (Revelation 5:9-10)
If the Christian Story is true, it is true for all people, places, cultures, & times. And it doesn't matter if you're chatting with a seatmate on a plane or your next door neighbor.
Common interests in movies are markers of God's common grace.
Mark watches so many movies, Redbox may set up a kiosk on his front porch. The 13 week series for Mark's church group is being taped and hopefully will be made available to the public in the future. Mark's church is Crossroads Community Church in Fishers, IN.  This summer-fall, Mark wrote 3 essays on movies: parts one, two, and three.