"When you see a book with Leland Ryken's name, buy it;
ask questions later."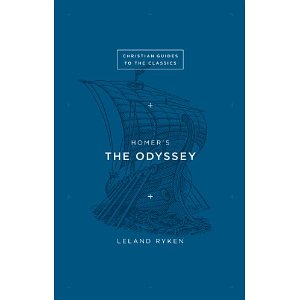 For the past 25 years this has been my mantra whenever anyone has wondered about books for the humanities. Leland Ryken has written or edited 40 books in his lifetime, teaching for almost a half century at Wheaton College. His latest offerings should be scooped up by every homeschooling family, Christian school teacher, lifelong learner, and college student. What Ryken has done is to give the thoughtful Christian a basis for engaging classic texts such as Macbeth, Paradise Lost, The Scarlet Letter, and The Odyssey with the transcendent source of truth, Scripture.
Each small guide—70 to 95 pages—begins with the same pages: "The Nature and Function of Literature," "Why the Classics Matter," and "How to Read a Story." Packed paragraphs mark a succinct direction for why these Christian guides are necessary.
To Ryken, literature captures universal ideas which matter to all people.

Classics, the best of literature, help humans to interpret their world.

One must never forget that interpretation always bears moral weight which is why truth claims of a story matter.
Every booklet then highlights the novel, poem, play, or epic, giving an overview summary of its important characters, plot, cultural context, and tips for reading. Cultural context is the centerpiece where Ryken lays the groundwork for how the book matters in a Christian perspective. "The Author and His Faith" helps each reader to understand how the author's thinking fits within a God-centered framework. Milton's life, for instance, is marked by exceptional education, the Protestant Reformation, and Puritanism which helps the reader understand why the poem Paradise Lost is religious in nature. The very next page in the guide identifies the genre of its subject. In the case of The Odyssey, Ryken explains the concept of "epic" connecting the ideas in the book with how that type of literature matters in interpretation. The Macbeth booklet includes a more thorough understanding of "Shakespeare's Theatre" bringing the Renaissance stage to life.
Ryken then digests each treatise for the reader. Depending on the literature's organization—whether a play or poem is being engaged obviously matters—Ryken's expertise and experience shine. Plot summaries and commentaries zero in on the essence of the writing's lifeview. Sidebar comments dazzle the reader's imagination as local customs, word histories, outside source quotes, or unpacked historical events which add understanding. Most important to a thinking person is the addition of reflection or discussion questions causing one to ponder how ancient ideas are more modern than we think. Resource and glossary pages give further insights. One would hate to miss Ryken's bonus materials on the biblical perspective of The Odyssey or its "Tie-Ins with the Book of Proverbs."
For those who might think these are a Christian version of Cliff Notes let me dispel the myth. Ryken has demonstrated for over 45 years that his thinking, writing, and teaching is thoroughly biblical. Anyone who wants to better understand any of these classic works from Heaven's perspective could do no better than the earthly erudition of Leland Ryken. A mere $6 price for any of these slim volumes is worth the $100 students will spend on a textbook they will never read. If one is serious about reading, she should be serious about spending a few dollars for the gain of great Christian knowledge.
When Mark lived in Wheaton, IL he had his picture taken with Ryken in 2002.  Dr. Ryken seemed surprised that I was interested to meet him. Leland Ryken. Macbeth, Paradise Lost, The Scarlet Letter, and The Odyssey. Wheaton, IL: Crossway Publishers, 2013. Reviewed by Mark Eckel, Professor of Ministry Studies at Capital Bible Seminary, Washington, D.C.  Published online at Englewood Review of Books.