"I knew I had been drafted by the Kansas City Royals.  
But I was still in the big leagues."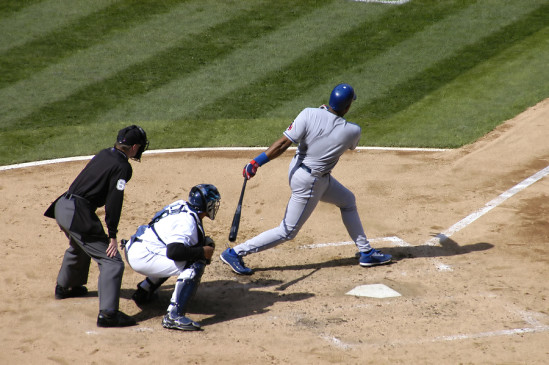 We had been discussing our place in this world. Our place is as academicians.
Our gift is to study, read, research, write, teach, and defend true Truth.
We are professors. We profess, state, declare, and entrust The Word, The Bible to others.
We take our role seriously. Our students depend on us. Our local churches depend on us.
We bear the burden of carrying God's declarations. We are careful with our instruction.
Our communication is just as important as our content. We care deeply for what we say and the way we say it.
My friend and fellow professor, Dr. Nicholas Piotrowski, always tells me how joy filled, how privileged he feels to be a Christian college professor. Continuing his comment from above he added,
"I knew I was not a New York Yankee, but I also knew I was playing on the same field as the world champions. And I was honored to be in the game."
Later that same evening I watched The Last Quartet, the moving story of four individuals trying to keep their team, their musical group, together. Each member of the string quartet faced the delicate task of maintaining the tender threads of fidelity to "The Fugue"—the group's world renowned name. But delicate threads are easily broken. One by one, weaknesses were exposed. One by one, characters were diminished. The film is an honest portrayal of people who struggle with their own failings, inadequacies, foibles, sins, and insufficiencies.
The final scene teaches the truth not to be missed: we accept ourselves and our comrades as we are.
Solidarity is marked not by smooth, taut strands but by knot-filled rope. 
Life is full of knots.
Sometimes we live with the knots we're given.

Sometimes we tie ourselves in knots.

In our honest moments, we hate the knots.
We try our best to untangle the mess.
But our rope is saturated, taut; the fibers swell and the knot will never be loosened. So we have a choice. We can cut the knot, somehow reassembling our lives. Or we can learn to live with the knot, a marker of our fallen, finite state. We can discover the best way to exist is to join our ropes with those of others, bearing knots of their own.
Somehow we bond as a team that cannot be broken. 
Dr. Nicholas Piotrowski makes me feel like the manager of The New York Yankees every day.
We serve in a small school. Some, in our own city, do not know we exist.
But I watch a young man who has just successfully defended his dissertation; bearing the distinctive title "Doctor," Nicholas enters his classroom with verve and vigor.
He has mastered the content of his courses.

He presents his lessons with passion.

He demands high commitment.

He gives his all.

And his students hang on his every word.
Dr. Piotrowski knows our position in the Christian academic world is that of a small, Midwestern ball club just trying to stay competitive.
But if there is one thing I know, it is this:
I have the honor every day of taking the academic field with an All Star.
Congratulations Dr. Nicholas Piotrowski for earning your doctoral degree in New Testament Studies from Wheaton College.  It is an honor to serve with you at Crossroads Bible College.