Looper allows us to ask the questions
we humans have been asking for all time.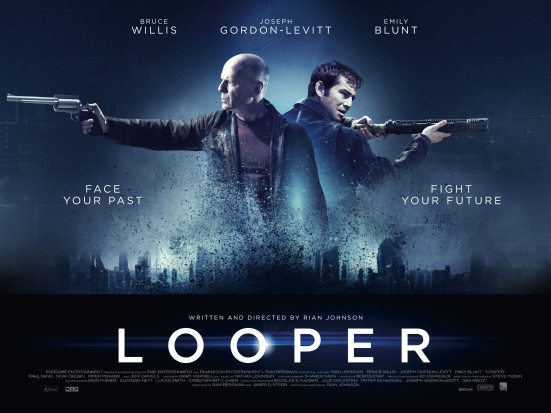 What good would it do us to know the future?
If we knew the future, could we make a difference in its remaking?
If we knew the future, and could make a difference in its remaking, would we?
If we knew the future, and could make a difference in its remaking, would we do the unthinkable to get the job done?
Science fiction allows us to ask "What if?" questions. We forecast the future by considering our present. Allowances are made in our vision to bypass reality. We can create the world we need, to make it possible to meet the needs of the world. Our best thoughts about 'then' can change our thinking about 'now'. Good film makers can project a moral canvas into a world which does not exist, but could. 
A question which has haunted philosophers over millennia is, "Are we killing our future?" What children are we killing in our war against the womb or our wars in which they are entombed? What if a Charles Salk child could be saved, creating medicine which would eradicate disease? What if an Abraham Lincoln child could be saved, creating unity between warring factions? What if a child with extra-sensory perceptions could be saved, his powers used for good?
Looper asks just such questions. Is our view of the future short sighted? Are we simply living for today? Do we plan for the future? Whom does our future include? Then, Looper asks a more difficult question. What if our future comes back to haunt us? "Letter to Me" is a country song whose lyrics make us ponder, "If I could meet myself in the future, what would I say to me?" The central, pivotal scene in Looper asks and answers the question. Well, almost.
Rian Johnson (Brick, The Brothers Bloom) creates the movie which presses the viewer to ask the questions. In an interview Johnson addresses the difficulty of making Looper while explaining the essence of the imaginary tale.
All the sci-fi I grew up loving — Philip K. Dick, Ray Bradbury, or whoever it was — used its sci-fi premise as a tool to talk about something we really cared about. To me, that's what sci-fi is for. It's not necessarily to preach or send a message, but just to talk about what we as human beings can relate to, while using these fantastic concepts we cannot relate to at all. That's a very powerful thing, I think.
Science fiction films are a dime a dozen. Most are throwaways, knock-offs, copy-cats, stray cats in a world of feral film-making  But then Rian Johnson comes along to show us how it's done. Time travel has been the central premise of many futuristic films. The concept of time travel is often used and abused: placing characters in another dimension to simply remove time-space restraints for our own ends, is the most obvious of these. But true science fiction allows time travel to speak into our own time. As Rian Johnson says, there are things we human beings need to talk about. Transported to another time, we are allowed to discuss our own time. Looper allows us to ask the questions we humans have been asking for all time.
Could we have a part in changing peoples' perspectives, their psychology, and, so, the trajectory of their lives?

 

Would we open new doors, allowing an alternative 

story-line

 to take affect?

 

What would happen if we thought less of ourselves and more of others when we considered the consequences of our actions?

 

Can we better change the world through a war against others or our own sacrifice?
Rated R for violence, gun-fights, profanity, one scene of nudity, brief sensuality, drug use, and frightening scenes including a child.