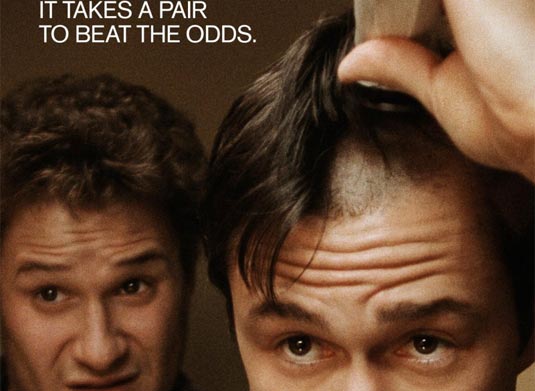 Adam is fit and neat. He also has a cancerous tumor surrounding his spinal cord. His chances of survival, as the title says, are 50 percent. The movie takes place over the course of his diagnosis and treatment and relates how Adam deals with relationships during illness maybe more than about how Adam deals with illness itself. He leads his altered life with poise and clarity, while girlfriend, best friend, mother, and therapist have greater difficulty with, and more voyeuristically interesting ways of, aiding him.
After an oncologist, whose only interest is the rare nature of the disease, diagnoses Adam, he recommends he see a therapist "whose field that is". Adam sees doctoral student Katherine. He is her third patient, ever. Full of book learning minus experience, she describes Adam's emotional experiences through psychological definition rather than listening to what he shares about his experiences. Over the course of their meetings there is a running element concerning her physical expression of sympathy, which feel to Adam as clinical as her therapeutic assistance.
Adam's girlfriend, the less said the better, is a narcissist he finally dumps. Conversely his bumbling and self-involved best friend Kyle is most real with and sympathetic to Adam: he expresses his queasiness and anger and tries his best to console his friend with booze, weed, and women. He's Adam's confidant who, though self-involved, is aware he cannot comprehend his friend's trial but sticks by his side through the duration.
Adam's relationship with his mother is the most delicate. She is taking care of his father who has Alzheimer's, yet desperately wants to be involved in Adam's life and take care of him as her son. Adam uses her caretaking of his father as an excuse to exclude her from his life, though she obviously does and can care for him like only a mother can. For various reasons, one of which is his being a grown man, Adam excludes her from his life till the end when he expresses his deep love and need for her.
Adam's friends in chemotherapy are his buddies in the trenches. They understand the sadness of their shared condition. But their will to rise above their illnesses and appreciate the life left to them raises Adam's spirits during their time together.
50/50 shows clinical therapy in the light of the therapy of the macrocosm of life that also includes the psychologist's couch. Clinicians can diagnose and name. But the sympathy for another in trials we can only imagine may be more important than knowing forms of symptoms and treatments. In imagining another's specific suffering we can develop a contemplation of the human condition from which may arise true empathy within the shared suffering of being human. Adam stalwartly perseveres in his stricken life mostly despite the messy care of others. The immanence of death finally shakes Adam to the core. It is then he learns what care is and to accept it as love, messy as it is.
Rated R for pervasive profanity, sexual content, and drug use.
Human Suffering, Human Condition 50/50, a film review by Tyler Eckel.  Tyler is a free-lance writer from Indianapolis.  Tyler has been writing with and editing his father's work for years.  eckel.tyler@gmail.com