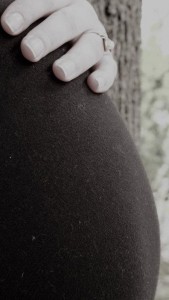 Wolfing down my third taco of the night as a woman in her fifth month of pregnancy, I finished Sarah Jobe's book with a sigh. On one hand, Creating With God contains a wit and humor that only pregnant women appreciate as it encourages us in our doubts and fears through laughter and honesty. Yet, as I turned each page, I wondered if what Jobe wrote next was going to rub against or jive with the Christian theology which I hold dear. With each chapter Jobe makes clear an unprecedented view that pregnancy makes woman more like Christ. Though becoming more like Christ is hopefully every believer's goal, Jobe's specifics on how a woman becomes like Christ is sometimes disconcerting. With that said, I am thankful for a book that challenged me to think biblically and creatively about one of life's greatest joys. Creating With God touches the delightful depth that is pregnancy.
It is fair to start with a little background on Sarah Jobe. As a pastor trained at a Methodist seminary, Jobe married a Catholic man, has two daughters, and is now living in an "intentional Christian community" in North Carolina. Jobe is a woman who has worked hard to live life deliberately, trying every day to understand God's grace and how she can extend it to others. She is honest about how her ambitious nature gets in the way of her faith: "Receiving my faith as a gift is still difficult for me. I feel like I should be doing something. I want faith to feel like an accomplishment." I appreciate this confession almost as much as the graphic transparency with which she describes one of her daughter's births. "At the end of my labor, I lay on the bed a few inches from where I had just pooped with a tiny, wet version of my daughter nestled against my breast." This is an author who knows how to connect with other pregnant women.
The task of connecting the moments of birth with biblical interpretation may seem difficult, but Jobe accomplishes it rather seamlessly. She writes about the true nature of pregnant bodies with the same ease as she does her theology—a sign of familiarity and confidence. In this book, Jobe "explore[s] how the practices we take up on behalf of our growing babies train us in the very practices we need to live a life of faith." In one chapter, she begins with the story of Jesus being touched by the woman who was bleeding for twelve years. Jobe then breaks off into a personal story, tying in the ancient narrative as it applied to her own. Though Jobe's interpretation of this application should be up for discussion, the strategy of interweaving personal with theological analysis was well done.
Yet, yet, yet… after reading only the introduction, I had the same feeling I did when I finished Creating With God: wariness, unease, the desire to raise my hand in rebuttal. Frankly, I felt Jobe claims more for pregnancy than is her right to claim. Beginning with the statement that women are "co-creators" with God in pregnancy, Jobe puts pregnancy on a holy pedestal without giving enough credit to the Giver of gifts such as children. In Chapter One Jobe states, "it matters if we say that Eve "acquired" a child "with the help" of God. This is different than saying that Eve and God are co-creators." To this I say, yes, it does matter! The former gives glory to God for his gift while the latter puts women on even footing with God the Creator.
In a subsequent chapter to this Jobe equates Jesus' ability to heal with a pregnant woman's ability to form relationships. Later she applies Jesus' glow in his transfiguration to the glow of pregnancy. Next, Jobe relates Jesus' body and blood through communion with how a pregnant woman's body will give calcium from her bones to her growing baby if he or she is not getting enough. Jobe is not writing in metaphor when she says, "My body is real food," Jesus says. "Mine, too," I reply." At the end of Chapter Six, Jobe crosses the line when she puts a woman's blood and water from labor in the same sentence as the blood and water expelled from Jesus at the cross. As a Christ-follower and the daughter of a theologian, I cannot stomach these claims. If a woman at all resembles Christ, it is because of Christ in her—never her own creative holiness.
But by the grace of God I am what I am, and his grace to me was not without effect. No, I worked harder than all of them—yet not I, but the grace of God that was with me (1 Cor 15:10 NIV).
Should you read Creating With God? Yes, but only if you're willing think. Jobe does a wonderful job of making pregnant women feel more comfortable in their stretching skin as well as connecting this stage in life to the God who calls all children to Himself. Still, as with all books, a reader should not blindly read; think about every insinuation and claim. In the end, reading Jobe's book makes me want to rejoice for my own growing little one and exclaim praise to the Creator of that life.
Chelsea Andres, pregnant with her own child at 9 months in this photo, reviews Creating With God: The Holy Confusing Blessedness of Pregnancy, by Sarah Jobe (Paraclete, 2011). Chelsea, when she was a little girl growing up in our home, did not want to grow up. By God's good grace, she has grown up just fine.  Chelsea delivers her little one this month.