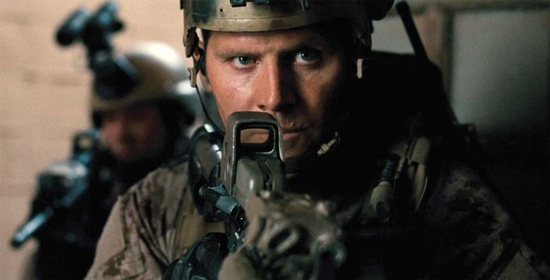 It is important to say this from time to time: shed blood makes us free. It might seem that my blog will take a theological turn at this juncture, but no. Shed blood makes us free citizens. The movie Act of Valor reminds American citizens who we have to thank for our freedom. Act of Valor portrays real Navy Seals not Hollywood actors. If you have missed it on the big screen make sure to see it on DVD. It is important to promote a positive image of U.S. soldiers.
I am tired of news reports I hear every week from main stream media outlets which talk only about our soldiers as recovering from psychological distress, physical wounds, or maladjustment back into American life. These reports must never be brushed under the rug. However, to only hear about one side of the results of our war against terrorism is a treasonous debilitation of our national and military spirit. Negative attitudes strip us of resolve and embolden our enemies. I want to hear about Medal of Honor winners. I want to hear about battlefield victories against our enemies. I want to take note of how warriors keep us free. If all we ever notice about our armed forces is that they suffer, then we will soon know what it is like to suffer without troops to maintain our freedom.
I do not speak as one who has gone to war. I speak as one who is grateful for those who have and do. The American military is a volunteer force. My U.S. military veteran-students tell me that they signed up for military service because they love their country. When they went into battle, they say, they added to love-of-country, love of their buddy next to them.
Recently I was addressing a high school audience on vocation—a student's life calling. I used the military as the basis for my introductory remarks. Some folks are born to fight, I said. They love the adrenaline rush of combat. And what they do, allows us to go to school without worrying that we will have to dodge AK-47 rifle fire or rocket-propelled-grenades. I was surprised by what happened next: spontaneous applause. Students were clapping out of gratitude for freedom and the soldiers who keep them free. These 400 students in central Indiana have seen family and friends off to war. They have seen heroism first hand and do not take it for granted. Act of Valor is a movie that will make you thank your family and friends who have served. Act of Valor will make you proud to be an American. And Act of Valor will remind America on Memorial Day and every day that shed blood keeps us free. For Moody Radio, this is Dr. Mark Eckel, personally seeking truth wherever it's found.
"The Marine Corps Hymn" was the first hymn Mark ever learned; he can still sing it today.  This post will air just before Memorial Day on Moody Radio, May, 2012.